Compared to other Los Angeles neighborhoods, Downtown LA isn't exactly a huge must-see for travelers and tourists. In fact, during a period of decline, even Angelenos avoided this area for many years. But that all started to change around the mid-2010s when a neighborhood renaissance brought more businesses, residential buildings, and cultural institutions like The Broad and the Walt Disney Concert Hall to DTLA.
The Sheraton Grand Los Angeles has undergone a renaissance of its own after a recent $75 million redesign. While there are a handful of great hotels with stellar amenities in DTLA, I chose to stay at the Sheraton Grand Los Angeles during a recent business trip for a variety of reasons, besides proximity to where I needed to work. Not only is the property, and its hotel fitness center, looking sleek and sophisticated compared to many of its more dated counterparts of the same name. The Sheraton Grand Los Angeles also happens to be right next door to The BLOC, which happens to offer a range of opportunities for healthy business travel.
So, if you're looking for an ideal place to stay strong and healthy during your next business trip to DTLA, you can do it pretty easily at the Sheraton Grand Los Angeles.
Where to Move
Sheraton Grand Los Angeles Hotel Gym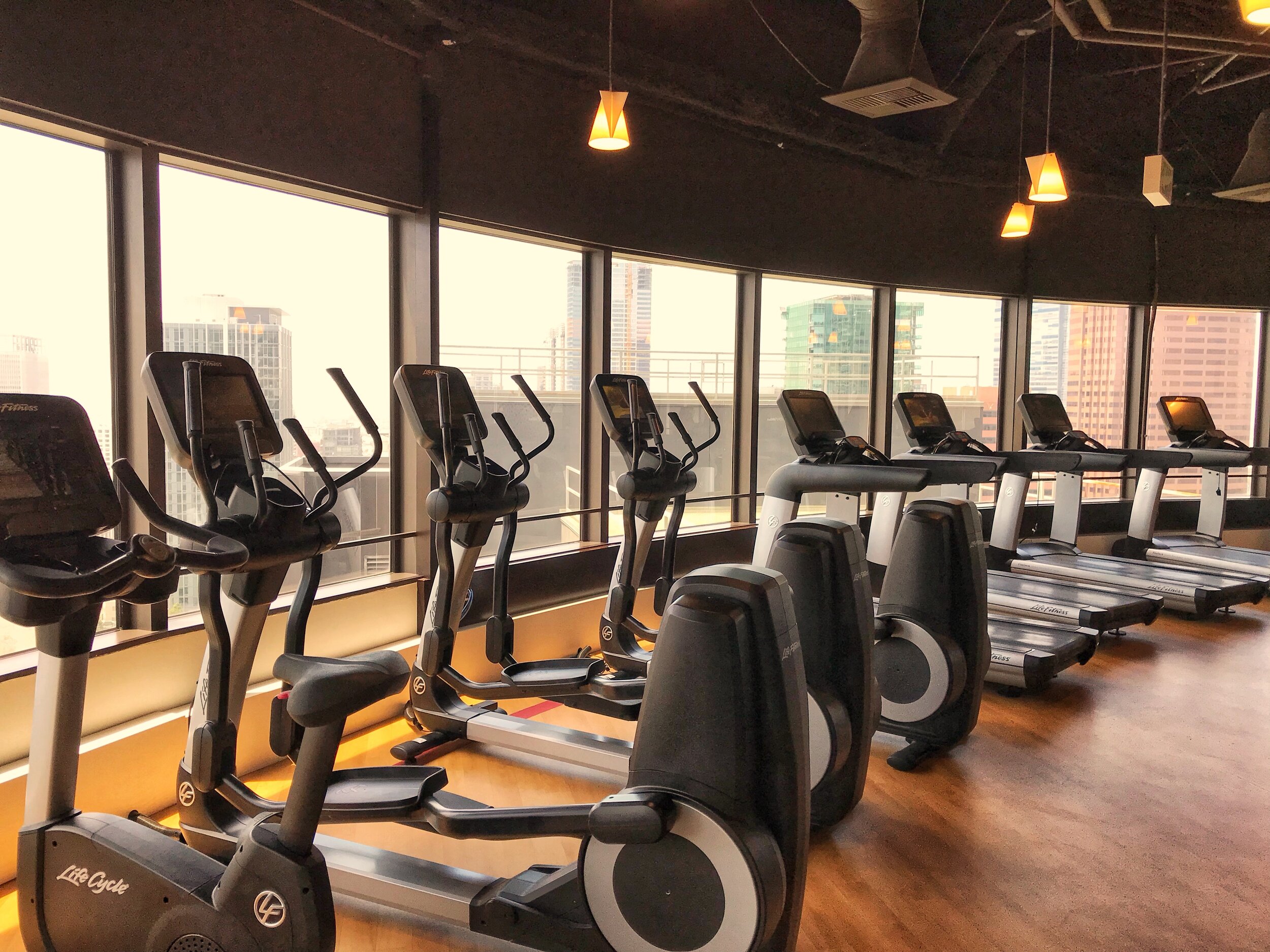 The Sheraton Grand Los Angeles' 24-Hour Hotel Gym is not the largest you'll ever see. However, it's very well-equipped. Four each of elliptical trainers and treadmills, three recumbent bikes and two rowers round out the cardio section of the hotel gym along with accessories like foam rollers and a couple of exercise balls. There's also a cable machine, a good handful of nautilus equipment, and freeweights ranging from 5 to 50 lbs. As far as space is concerned, an empty corner with a window overlooking DTLA allowed enough space for two women to have a full-on yoga session during my stay.
DTLA Running Group
While some business travelers love running to explore an unfamiliar city, others aren't always so comfortable doing so. That's why local running groups are great for a little camaraderie and guidance through unfamiliar territory. Guests at the Sheraton Grand Los Angeles have the benefit of having the DTLA Running Group meet right on the lawn between the hotel and The BLOC. Join their Meetup Group to sign up for group runs, which take place every Tuesday and Thursday evening at 7:00 PM.
Yoga, Cycling, Barre & CrossFit Classes
Craving the structure and tribe of a class? A ton of options exist within a very short walk or Uber/Lyft ride from the Sheraton Grand Los Angeles, including:
Where to Fuel
Sheraton Grand LA Room Service
In a hurry or just want a quiet meal in your room? The Sheraton Grand Los Angeles' food service menu offers some good lighter food options. Breakfast options include egg white omelets and steel cut oatmeal, while for dinner you might find the Little Tokyo Grilled Salmon and grilled cauliflower to your liking.
Qwench Juice Bar
If you're craving raw juices, acai bowls, or protein shakes, it doesn't get much better than Qwench Juice Bar, which is pretty much located right below the Sheraton Grand Los Angeles. The health food chain also offers bowls that come with a quinoa or brown rice base along with their "superfood gravy." A word of warning - the bowl portions are HUGE, so come hungry! (Note there's also a second DTLA location on 8th and Olive on the same block as SoulCycle.)
DRNK Coffee + Tea
Just a counter over from Qwench is where you can get your caffeine fix. However, DRNK Coffee + Tea isn't your typical coffee spot. Along with the regular lattes and macchiatos you'll also find interesting concoctions that play off the whole "Bulletproof Coffee" concept – if that's your thing.
Everytable
A few doors down from Qwench is Everytable, a restaurant on a mission to provide greater access to healthy food everywhere. With locations in both food deserts and more affluent areas, every meal purchased helps Everytable open locations in under-resourced LA communities where they sell their food for less. This grab-n-go concept is great for business travelers who want to grab a salad or a grain bowl super-quickly out of the large refrigerated section. Check out the website menu for gluten-free and vegetarian options.
10E
A perfect balance of hipness and sophistication makes 10E a great place to bring clients, colleagues, or your boss for dinner. This Armenian and Mediterranean restaurant truly offers something for everyone to enjoy. The option to add veggies or protein to hummus is a great touch, and there are plenty of delicious vegetarian options to try.
Bodhi Bowl LA
Bodhi Bowl LA is 100% vegan and offers an excellent variety of plant-based bowls, paninis, and wraps. Create your own custom bowl with flavorful additions like pineapple salsa, curried garbanzo beans, sweet chili tofu, and raw walnut chorizo.
Backyard Bowls
Ready for a treat? Backyard Bowls offers a generous variety of acai bowls, smoothies, porridge bowls and grain bowls. The acai bowls are truly a choose-your-own adventure with the option of add-ons like pea protein, almond butter, and even extra fruit! Order ahead online for pick-up if you're in a hurry.